By Georgia Handforth, CLAME Associate, Headlight Consulting Services, LLC
This blog is the second of a three-part mini-series on organizational learning and the Collaborating, Learning, and Adapting (CLA) Framework.
Welcome back to our mini-series sharing Headlight's experiences with Collaborating, Learning, and Adapting (CLA)!
In the first post in this series, we talked about why CLA is so important to Headlight's approach, where you can look to learn more about CLA, and how to apply and strengthen CLA approaches in your everyday work. This second post goes deeper into two specific exercises, the Yarn Toss and the Maturity Tool, that can help teams apply CLA to their work in a practical, right-sized way.
Part of being systematic and intentional in CLA practice is having a clear understanding of where you are, where you want to go, and how you plan to get there. In this post we are going to walk through two activities that make it easier to look at ways your organization or team already uses CLA practices, as well as potential opportunities to expand practice and what it might look like to "level up" on a CLA component or subcomponent.
As you're reading…
Keep an eye out for bolded CLA subcomponents—see this Learning Lab two-pager if you want a refresher on the components and subcomponents— throughout the descriptions of the activities, and think about how you see these or other subcomponents showing up in your work.
Yarn Toss
One activity we do as part of introducing people to CLA invites participants to think about ways that they already use or have seen CLA subcomponents in action in their work, and how the subcomponents connect and support each other. For instance, most of us do Internal and External Collaboration on a regular basis, and most if not all organizations have some structures in place for Knowledge Management and stewarding Institutional Memory.
As we mentioned in the first post of this mini-series, the goal of the CLA Framework is not to replace the strong practices a team already has, rather the goal is to highlight how different areas of practice are mutually reinforcing and to support a systematic, intentional, and resourced approach. That's where the Yarn Toss activity comes in
How the Activity Works
To start the activity, participants have a few minutes to individually think about examples from their work of an assigned set of subcomponents of the Framework. After folks have had time to think on their own and jot down some notes, the activity involves making connections between subcomponents. A participant will share their example of a subcomponent at work, and then make a connection to another subcomponent.
You can create the framework visual in your slide deck of choice or another digital graphic collaboration tool (we like MURAL) to support visual learning with something that looks like this:
In this example, one participant starts with a story about Pause and Reflect, describing how their organization has regularly scheduled reflection opportunities after major programs and activities. Then, the participant draws a connection to Institutional Memory, because their organization captures key information from the Pause and Reflect sessions and makes sure it is incorporated into planning future programs and events. With the first arrow drawn from Pause and Reflect to Institutional Memory, the floor is then open for another participant to share about an example of Institutional Memory in their work, and make another connection. The second arrow is from a participant who shares about how her organization makes Institutional Memory present and accessible to staff, and the connection she sees to the ability of staff members to employ Adaptive Management and continually improve processes and programming even through staff transitions. Then, the exercise would continue with a third participant sharing an example of Adaptive Management in his work and drawing a third arrow-connection to yet another sub-element.
By the end of the exercise, the group has had time to draw many connections, as seen from another example below — this one is from an internal session for Headlight staff:
These connections span the two hemispheres of the CLA Framework, showing how CLA in the Program Cycle (lefthand side: green, yellow, and orange subcomponents) and Enabling Conditions (righthand side: blue, purple, and gray subcomponents) support and reinforce each other. There can also be connections among the components within those two halves, for instance the connection between Technical Evidence Base and Adaptive Management in the example above, or how Scenario Planning can be a great opportunity to identify potential Internal or External Collaborators and think about how to strategically engage them.
Diving into the CLA framework in this way with a team can give a sense of areas where the team has strengths—with many connections and rich descriptions of the what, the how, and even the why for these practices and norms. Similarly, team members may identify areas that are currently in an emerging phase, using language like "we're trying something new and," "I just realized in looking at this that," or "we've talked about doing 'x' but haven't made much progress yet." Identifying these strengths and areas of interest for growth is a key part of keeping CLA practice relevant to the work and needs of a specific team in a specific moment, rather than being just another box to check—remember, systematic and intentional.
Maturity Tool
Helping a team think about their current CLA practice and how they want to improve brings us to our second tool: the CLA Maturity Tool.
The CLA Maturity Tool is specifically designed to help teams think collaboratively and strategically about how CLA already supports their work, which subcomponents are key to focus on next, and how to "level up" in those key areas. For more information and tools, see these Learning Lab pages for CLA Framework, Maturity Tool, and Spectrum Handouts, and CLA Maturity Tool Facilitator Resources.
For now, we are going to focus on the self-assessment exercise: a facilitated conversation that makes CLA concepts concrete to focus discussion. It is important to note that the reflective conversation itself is often the most helpful to teams in identifying gaps and finding a way forward. In other words: it is not necessary for team members to come to consensus or be in agreement for the conversation to be a success.
One other note about the Maturity Tool: it is completely fine to take this tool one subcomponent at a time, or even only focus on a few and not go through the process for the others. CLA practitioners here at Headlight have seen this approach work well for teams to take a bite-sized chunk that is highly relevant to their needs at a specific time, without the overwhelm of taking on the whole CLA Framework at once.
How the Activity Works
The self-assessment tool can be used in-person as a set of physical cards, or virtually as a slide deck for remote teams. Either way, the content is the same and the process is similar.
Below, you will see an example slide from the virtual version of the tool—to continue the conversation from our first blog of this series about the relationship between CLA and Monitoring and Evaluation (M&E), this slide is for the M&E for Learning subcomponent of the CLA Framework: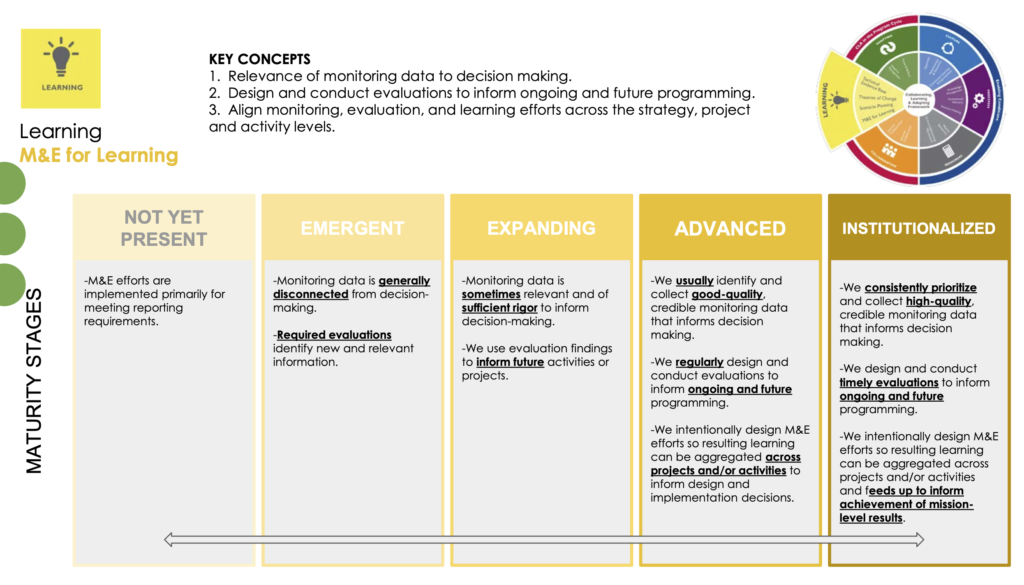 Notice the quick "Key Concepts" refresher on M&E for Learning centered at the top of the slide, which summarizes the essence of the subcomponent. Then, the color-coded Maturity Stages across the center of the slide contain notes about what this subcomponent would look like at different stages of maturity.
The partially-shown green dots along the lefthand side of the slide are for the activity: after reading the slide, each team member can "vote" by placing a green dot at the point on the spectrum that they believe represents their team's maturity for this subcomponent. This is the basis for the conversation, led by a facilitator who guides the team through questions such as:
Where is the team now?
Can you give examples to illustrate your choice?
Is there general agreement, or do different team members see things differently?
What is the right level of maturity for this subcomponent, based on the needs of the team?
What would it look like if we were at a higher level of maturity for this subcomponent?
Remember the point that it is not necessary for team members to come to consensus or be in agreement for the conversation to be a success. Especially for subcomponents such as Openness or Decision Making, approaching them through the Maturity Spectrum may help draw out areas where team members might have different vantage points, orientations, or experiences, and make it easier for the team—with support from the facilitator—to have a productive conversation about those differences. This can help a team be more intentional about the practices, processes, and norms that support their work together.
Following the self-assessment conversation comes action planning, where the team continues to work collaboratively to generate and agree on next steps. Materials to guide facilitation of the whole exercise from planning to conclusion can be found on Learning Lab under CLA Maturity Tool Facilitator Resources.
What's next
We've covered a lot of ground! If you've been reading since the first post, you're now oriented to why Headlight looks to CLA as our organizational development framework of choice, and our experience with two specific tools that bring CLA off the page (or screen) and into everyday practice.
The third and final blog post in this mini-series will go deeper into practical experiences Headlight has had implementing CLA. We will discuss our process of getting feedback to inform Decision-Making on CLA trainings we run, as well as going into more detail on the common pitfalls around CLA that Headlight staff have seen. As a bonus, drawing on our fondness for Internal Collaboration here at Headlight, in the final post we will share some favorite subcomponents and hidden gems in the framework according to Headlight staff. Remember to subscribe to this blog to catch the last post of the CLA series, and in the meantime check out the additional resources linked below for more on how to use CLA.
For more information and resources on CLA:
The USAID Learning Lab CLA Toolkit
USAID CLA Learning Lab Two-pager
USAID CLA Example Cases (CLA Case Competition)
Headlight's Pause and Reflect Guide
For more resources on the Maturity Tool:
CLA Framework, Maturity Tool, and Spectrum Handouts
CLA Maturity Tool Facilitator Resources.
If you have any questions about organizational development and learning or would like help with these exercises or other ways of assessing or improving your CLA capacity, Headlight would love to support you! We have the breadth and depth of experience to tailor-meet your needs.
For more information about our services, please email info@headlightconsultingservices.org.
Headlight is a certified woman-owned small business and therefore eligible for sole source procurements. We can be found on the Dynamic Small Business Search or on SAM.gov via our name or DUNS number (081332548).